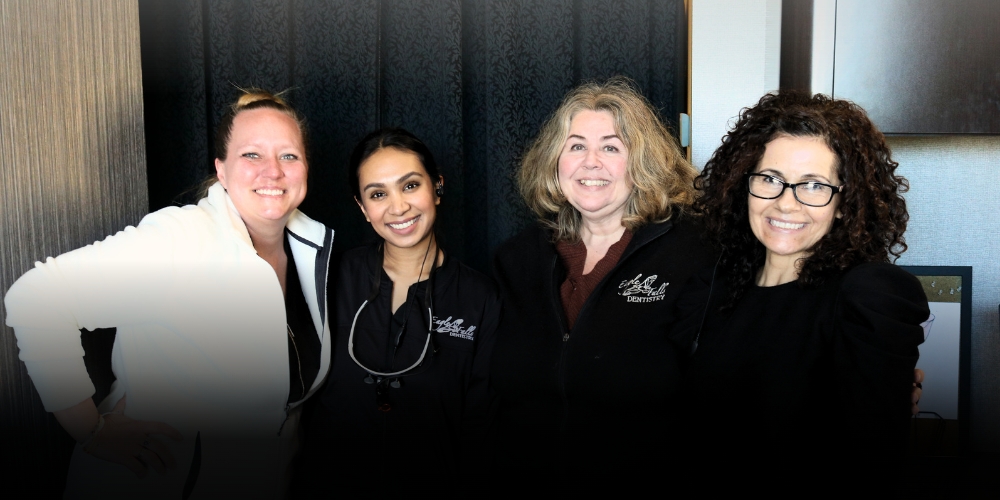 ---
Administrative Team
---
Debbie
Treatment Coordinator
Debbie joined the Eagle Falls Dentistry team 28 years ago as a dental assistant. Currently working as a treatment coordinator, Debbie enjoys interacting with her co-workers, bosses and most of all, the patients. What you might not know about Debbie, she is a volunteer at PADS Homeless Shelter, a Girl Scout Leader, and most importantly a devoted wife and loving mom.
---
Trina
Insurance Coordinator
Trina's 20+ years of experience in the dental field reinforces the fact that she has a strong desire to help people understand and improve their dental health. Her outgoing personality and positive attitude are contagious and are greatly appreciated by both coworkers and patients. On the weekends Trina enjoys boating in the summer, still attends her kid's sports games and is nowhere near ready to let her kids go off to college. Can you blame her?
---
Patricia
Concierge
Patricia truly enjoys what she does as Concierge. Her daily goal is to treat each patient like family with her outgoing personality that is effortless. In her downtime, Patricia loves going out with friends and family, helps take care of her parents, and enjoys just staying at home and relaxing. She can be found ordering chicken fingers at any restaurant. But is also known to cruise the pasta menu keeping up with her Italian heritage. She is fluent in Italian and thinks highly of her parents.
---
Julie
Treatment Coordinator
Julie has been with the Eagle Falls team and family for over 35 years. Fun fact, she started out as a babysitter to Dr. Adam Sazatkowski and his brother's and has been working for the Eagle Falls Dentistry as a Treatment Coordinator since. In her spare time, you can find Julie with her family, or running – a very healthy hobby!
---
Sylvia
Treatment Coordinator
Sylvia has been a Treatment Coordinator for over 5 years here at Eagle Falls. She is a mom to 3 children whom she adores immensely. Sylvia enjoys a good work out and shopping. Her overall style outside of work could easily be classified as "chic". She enjoys spending time with her friends and family, going to dinner and bike rides. She also has an 11 year old Golden Doodle dog named Payton that she also enjoys taking to parks and walks.
---
Dental Assistants
---
Lisa
Dental Assistant
Lisa has been with Eagle Falls almost 5 years. She is considered an expanded functions. She is a cross-trained assistant with 17+ years' experience and loves the challenge as well as the diversity. Lisa married her high school sweetheart (She was a freshman, Ryan was in 8th grade), and we just celebrated our 15 year wedding anniversary! We have 3 kids, Austen 14, Myli 11 & Colten 9. Lisa grew up in Mundelein, IL and lived as an adult on both the East and West coasts. In her free time she loves making memories with her family going camping, hiking, mini weekend road trips or just annoying her kids.
---
Tammey
Dental Assistant, Purchasing Coordinator
Tammey's passion for work, her friendly personality and her ability to make people feel comfortable make her a great asset to the Eagle Falls Dentistry team. Before working as a dental assistant, Tammey worked as a stay-at-home mom and part-time in the insurance field. She enjoys having a hand in creating "new smiles" for people and improving their overall health and appearance. What you may not know about Tammey – she's a big hockey fan, loves going to concerts, fishing and hanging out with friends and family. She also volunteers at various food drives to help those in need enjoy the holiday seasons.
---
Marisol
Lab Technician, Dental Assistant
Marisol has been in the dental field for over 10 years. Her main responsibility is as lab technician of our two labs. She also has several other responsibilities. When needed she assists the doctors, she maintains the records room along with being the inventory coordinator. What you may not know about Marisol, when she's not working or thinking of work she enjoys spending time with her family, listening to music and going out dancing with friends.
---
Evelyn
Dental Assistant
Evelyn comes from city of Elgin. She graduated from the Dental Assistant Program at Elgin Community College in 2007. She enjoys working with patients, is a true team player and is bilingual in both English and Spanish. Evelyn is a wife and a loving mother of 3 children and loves spending time with them. She is excited to be part of our Eagle Falls team.
---
Anna
Dental Assistant
Anna has been a Dental Assistant for over six years and has been with our Eagle Falls family for over a year. She loves what she does, and always looks forward to what each day will bring in the world of Dentistry. She enjoys being around all of our great Dr.'s and teammates. Being able to help patients is what brings her happiness each day. Anna is originally from Poland, and current resides in Elgin with her husband Andy and 2 cats. In her free time, she travels back to her hometown, visits art galleries, and going to the movies. When she's not doing dental work, she can be found working on house projects with her husband.
---
Cameron
Dental Assistant
Cameron is a Dental Assistant here at Eagle Falls and came to us while in school. Cameron was at the age where she wasn't sure she know what she wanted to do until she found her calling. Her job is to help the doctors do their best with any and all procedures. In her free time, she enjoys going to the movies. Her favorite season is Fall. She loves going to haunted houses and pumpkin patches!
---
Maria
Dental Assistant
Maria has been on the Eagle Falls team for over a year as a Dental Assistant. She is bilingual and a mother to two daughters. She enjoys baking, not cooking and tries to do something thrilling and exciting once a year like skydiving. Maria looks forward to many more years on the team here at Eagle Falls.
---
Ashley
Dental Assistant
Ashley began at Eagle Falls as an intern from the College of DuPage Dental Assisting Program and loved learning from the doctors and team. She enjoyed the diversity assisting provides every day and building relationships with our patients. When she is not at work she enjoys finding new places to explore outside, cooking and baking, or relaxing with her family and friends.
---
Dental Hygienists
---
Natalie
Dental Hygienist
Natalie graduated from Southern Illinois University with a Bachelor's degree in Science majoring in Dental Hygiene. She started with Eagle Falls right after graduating. Since her start with Eagle Falls, Natalie has gotten married and had 3 children; Dane, Vivian, and Ethan. Natalie is very dedicated to working out. She enjoys running and participates in several races each year.
---
Donna
Dental Hygienist
Donna has been with Eagle Falls Dentistry for over 18 years. She has 43 years of experience in the dental field. Growing up in the Chicago suburbs and raising her boys in the area in which she grew up, Donna has strong ties to the Bloomingdale area. Prior to working at Associated Dental Care she worked for a predominant periodontist in the area as well as in a pediatrics office. What you may not know about Donna, she is a huge "Parrothead" (Jimmy Buffet fan) and often colors her hair in wild colors to coincide with concert dates. She volunteers with fellow parrotheads at events such as the Alzheimer's and MS walk, Misericordia Candy Days, and highway clean-ups.
---
Shelli
Lead Dental Hygienist
Shelli is originally from Davenport, Iowa and has a beautiful daughter named Brittany and two son's named Cole and Mac. She is a proud Grandma to an adorable young baby boy named Mason and Madison who is a tiny princess. She enjoys being with her family and playing with the kids. She is our Lead Hygienist here at Eagle Falls and is an asset to our team without a doubt.
---
Normary
Dental Hygienist
Normary is a mom to a young girl named Arianna and a young boy named Isaac. She truly has the best of both worlds. Normary attended College of Dupage to study Hygiene. She was born in Venezuela but has raised her children less than 10 minutes away. She met her husband when she was 15 years old and later in life they stayed together and married. She is fluent in Spanish and practices Italian when she can. Her family is adventurous and enjoys white water rafting, trips to Disney with the kids, and enjoys crafting. Fun fact: Normary doesn't like pizza or hotdogs!
---
Annie
Dental Hygienist
Annie has been in the dental field for 12 years. She began as a dental assistant during high school which inspired her to become a dental hygienist. Annie is thrilled to be a part of the Eagle Falls team where she can continue to provide patient-centered care with a fantastic company. Annie graduated from Fox College's Dental Hygiene Program in 2017. In her free time she likes to travel and spend time with her friends and family. Annie is a dog lover and has two of her own, Evey a Yorkshire Terrier and Rosie a Miniature Schnauzer.
---
Stephanie
Dental Hygienist
Stephanie has known she wanted to be in dentistry since the age of 6. She followed that passion as she got older and ended up in the University of Southern Illinois at Carbondale to pursue her degree in dental hygiene. In her down time Stephanie enjoys working out as she has a background in being a professional body builder. Overall health and wellness play an important role in Stephanie's life which is why she joined our team here at Eagle Falls. She enjoys getting to help each patient achieve their best overall oral health by coming to see her. Helping patients with their needs sends her home with a full heart to her 2 dogs and a cat.
---